Gaining membership in the National Wooden Pallet & Container Association NWCPA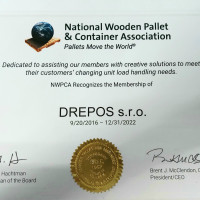 Based on our long-term efforts and continuously increasing export of our products to the US and other countries in North and South America, it was in September 2016 issued by the US National Wooden Pallet & Container Association membership in the organization and the certificate NWCPA. Currently we are the only manufacturer of wooden pallets and packaging in the Czech Republic, awarded this certificate. We very much appreciate this assessment, as well as long-term cooperation with our customers, who base their products on our pallets to the entire world supply.
High-quality production of pallets is not possible without market-leading software for designing optimal design palettes. To all our customers allow a high level of quality, we bought a license PALLET DESIGN SYSTEM tm. With this program, we can design the ideal packaging for your product.